An interview with a floral visionary.
---





You may have noticed, but issue 2 of Kusheen had a slight printing problem on an article! Our bad. None of the questions in our interview with Anthony Ward were readable. Poor font choice. Anyways, we decided to post the full article online! Anthony performs as a floral sculpter with some of the best underground music around, a character of note that we were excited to meet.

In fact, if you were out and about for Bicycle day down at the

Midway, SF (awesome venue!)

, you may have seen Anthony performing. He set up the floral arrangements around the stage as well. A seriously lucky treat. And now for the full article!

- Kusheen



...
Let's take a break from the tech art for just a moment to focus on the art and beauty of the natural world. Kusheen had the pleasure of chatting with Anthony Ward, the floral sculturor and author of "Being with Flowers: Floral Art as a Spiritual Practice."

Ward has a vibrant personality that matches the floral arrangements he creates. Over the years he has created with Flying Lotus, Phutureprimitive, Thriftworks, Kalya Scintilla, OTT and others. He has even created floral sculptures for the Dalai Lama. Something he did freely, as a service to the Tibetan monk.

How do you describe the relationship that most other people have with flowers?
Some people are crazy about them, some people are not aware of the flowers in their life. It's hard to describe what people's relationships are with flowers are really. But my book invites people to go deeper into their own journey with the flowers. It's a step-by-step guide, each chapter has a different flower meditation. With so much happening in the world, all the time, stopping to look at a single flower is a form of meditation.

What does working with flowers mean to you?
It means everything. They feel very natural to me. They feel like home. I am enlivened by flowers. Working with flowers is why I'm incarnated. In my book, I talk about "my dream nature" where everything just flows.

Eckhart Tolle mentions that perhaps flowers were the first thing that humans took in the beauty from. Maybe flowers were the first things humans tools into their homes for no utilitarian purpose. But the relationship is so deep because flowers conjure feelings of love and joy. We are taken deeper into our own humanity by flowers.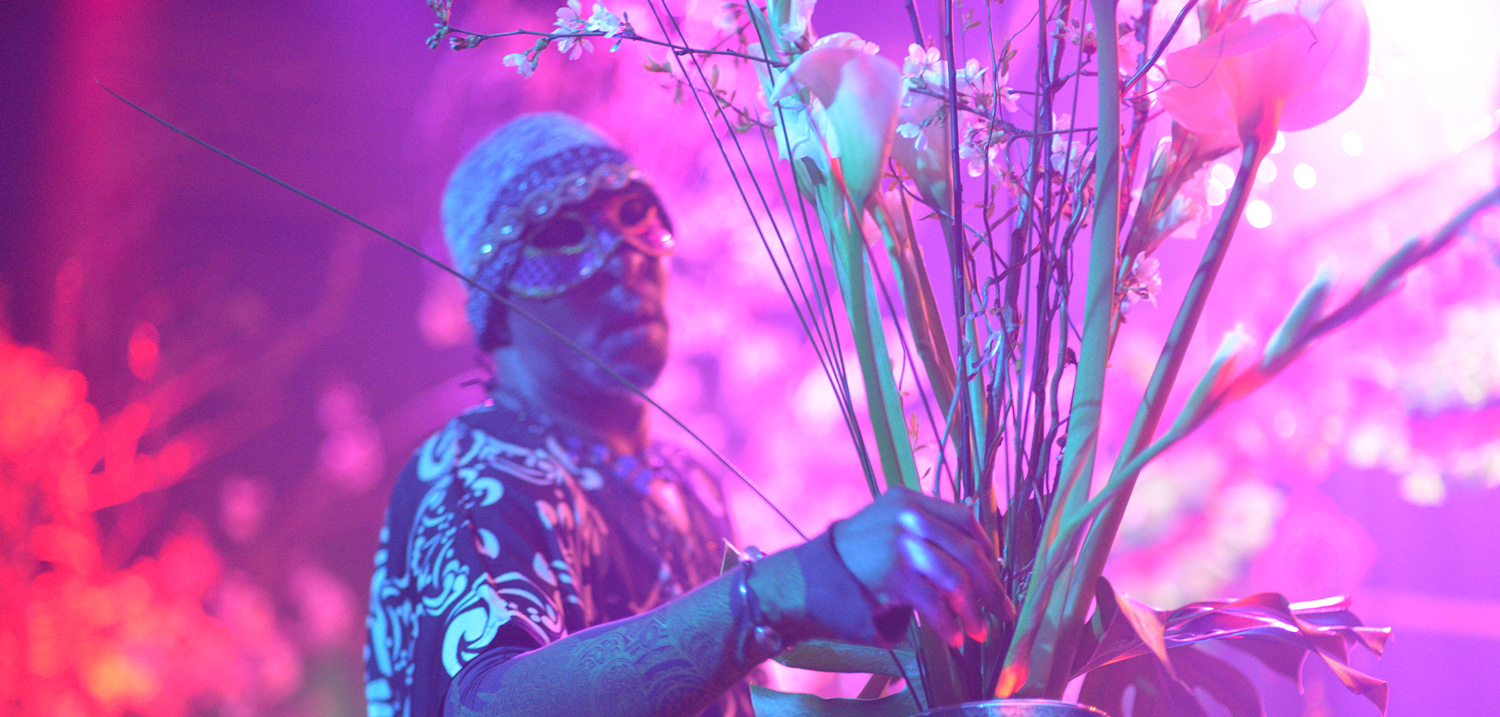 If flowers could talk, what would they say?
Flowers have equanimous love. They offer brilliance, beauty and fragrance to everyone equally. I was watching a man eat breakfast one day. He touches me the wrong way. We don't see eye to eye. He was kind of hunched over the table eating a bowl of cereal and there was a daffodil. I don't even know if he noticed it but this daffodil was right in his face just beaming light and love and beauty just as it would for someone I love and admire. That's what flowers do. They are available with all their beauty and brilliance for all of us all the time.

Where do you find your inspiration?
I'm inspired by are those who are living their purpose. People who came here to do something with all their heart and soul. I'm Inspired by children and their innocence. I've had the honor of meeting Dr. Maya Angelou and she has called me a floral sculptor. She says "Anthony you are not a florist, you're a floral sculptor." She has taught me how to find the thing that I came here to do and to put my heart and soul into it.

If you could meet anyone dead or alive who would that be?
O gosh, dead or alive, haha I'd rather meet someone who is alive, haha joking. You know, I really want to meet Oprah some day. It's very interesting, Maya Angelou was like a mother to her and we almost spoke to each other on the phone once, but I would like to meet her. Ms. Oprah Winfrey.

Is she doing anything right now that inspires you to want to meet her?
Yea, she is doing this thing called Super Soul Sunday and she interviews spiritual masters. She interviewed Thich Nhat Hanh and I was like okay, Oprah really knows whats up. He is a Zen Bhudist master living on earth still. He was nominated for the Nobel Peace Prize by Martin Luther King Jr. that is how long he has been doing this work. I had the honor of creating a flower offering for him several times and the first book I read about Bhudism is called "Peace Is Every Step." I think he's probably written 40 or 70 books, and he is in his 80's, and about a year and half ago he had a brain aneurism and is not able to talk anymore at this time. People are working with him, you know helping him, he has a beautiful community around him. When Oprah did something with him I said "wow" she is really going somewhere with that show.

Are there any experiences in your life that stand out for you?
Yes, and yes. There is a part of my book, which I hesitated to put in, because I thought I would be judged by people because it's something I felt so personal about, and I was just kind of afraid of what people would say. It was an out of body type of experience that came on simply by just looking at a floral basket that I had made in this garden in Los Angeles. I was there by myself, I had looked at the piece, I had been in garden all day, and my whole body started shaking - like uncontrollably. if I was able to collect the energy that was coursing through my body I could have floated, but I fell to the ground, and after however long it was, I don't know how long it was but after about 10 minutes, it was feeling of being aware of everything outside of my body as well, and this coursing like pulsing movement was shaking my whole body. When it was done I fell to the ground and I crawled inside. I couldn't walk because I was balling my eyes out. And I'm not really sure what happened. All a sudden I'm looking at the full moon and those words came out my mouth and this whole coursing energy just came up through my spine to the top and down my head. So I crawled inside and called this wise woman who I've been doing this work with and she said, "you know, you don't have to call this anything. Don't trip about it. it happens, it's something that people spend time meditating and experiencing psychoactive drugs etc etc just to experience what you did. And I was completely sober at the time. My friend, a kundalini yoga teacher, and she said, "Well it was a rising, you had a Kundalini rising.

You have met with the Dalai Lama before. What was that like?
Well the first time I met him was for an event in San Francisco called, "Peace Making - The Power of Non-Violence." And meeting him was a gift. The people that produced the event are a group called Tibet House and they asked me to do the event. I realized that a big part of what I want to do with the flowers is co-create with people who think they are lifting the vibration of this planet and so it just became a prayer. This is a big part of why I am here to do this kind of work, after that I met a Tibetan nun who said you know the Dalai Lama is coming, would you like to do flowers for him? I was like, "Uh yes, when, where, please." So I got in touch with people through Tibet House and I sent them pictures, gave them website info, and I didn't hear from them. So I called them and said "Hello - did you get what I sent?" And this woman got on the phone and she was kind of abrupt and she said, "You know this is ridiculous - all this stuff you want to do. We don't really have this kind of money. This is ridiculous." And I said well actually I want to donate all that. I'm not asking for money. If it is for the Dalai Lama I definitely would donate all my time and whatever I can to honor him. And she says oh in that case meet us in San Francisco and we'll have a meeting. And so I have a meeting with them and were bringing together many - 3 or 4 different Nobel Peace laureates, and his Holiness the Dalai Lama. We had 2 truck loads of flowers, and plants, and we decked the place out.

We had 25 ft tall potted bamboo plants framing the stage, and I got to do his dressing room and his hotel room. So you know in the hotel room I walked through, and said okay he's going to wake up and is going to look at this. And so he's going to go to the bathroom and we're gong to put something here. So we decked his hotel room out so much, and so they said, "You know you have to meet the Dalai Lama. He has to meet you because every time he see's your flowers he like who did this? Who made this?" So they said we have this time set up for you to meet his Holiness and its your time, its just for you. You know whats really interesting that day- there was a man who was documenting the event and he said, "So Anthony what are you doing today?" And asked if he could film that. I said, "I didn't know but come with me." So you can actually go on youtube and see the first time that i ever met the Dailai Lama, its on my youtube channel, and its very simple you know. I carried the sunflower around all day, and said when I meet him i'm going to give him the sunflower, and I didn't know you weren't supposed to give him anything. So I carried it around with me for a couple hours and I met him and shared the flower, and he started messaging my hand and with this outpouring of love and just sweetness.

You know what really struck me so much about him is his innocence. He is like a child . After I met him I followed him into this room where there was going to be filled with celebrities he was going to take a walk through. But when he went into this room he noticed this woman who I had noticed earlier myself. She was large, different looking, you could look at her and say she was picked on. I could see the pain. And I saw her from a distance and tried to send her some love, but his holiness walked right up to her and touched her face as soft as you would touch a baby on both sides, looked in her eyes and bowed really, really deeply to her, and just stood there a moment and just smiled at her and then walked away. And when he walked away she started balling - like convulsing - like I asked her if she wanted some water because maybe she might faint she was just uncontrollably balling her eyes out. I thought maybe perhaps her mother never did that to her, maybe her mother never made her feel so special or loved. But thats what he really does.

He breaks down all the social norms of what we adults, what we feel we need to keep up and he goes right up to the sickest person in room. I've seen him do this in a children's hospital, he goes right up to the sickest child in the room. He gets up very early in the morning to do this meditation so that he can be this person who breaks down through all the conformity and right to the heart of other people and i've seen him do that over and over again. I think I did over 10 different events he's spoken at. So that year I got to do that. That was the first time. He is just the kind of person who will tell a joke and then will laugh louder than everyone else. He laughs so much, its really, really funny. He is just joyful in that way. The last time I saw him he pulled my beard and stuff like that. its just really, really, funny. Thats what I was struck by, his innocence. And he does love flowers too. I'm told one of his favorite places to be is in his garden in Tibet. The first time I saw him on stage he sat down and he looked behind him at these really tall sunflowers and was like whoa, so him and I have that in common. He is human, by what he does. People try to say he is the living Bhuddha and well he says, I am a practicing Bhudist, trying to do the best he can, I hope you are trying to do the best you can as well. If people ask him a question and he doesn't know it he'll say I don't know.

What are your favorite festivals or events to share your art?
As far as large festivals, Symbiosis is my favorite. I was at Oregon Eclipse last year, and I have done five Symbiosis festivals. They just make an opening for me to do my thing. It gets a little hectic. The organizers are known for being a little chaotic, but they create this space where magic happens. Whenever they are having a Symbiosis I will be there for sure.

I had the chance to work with the Furtherrr Collective at Eclipse. They are five visionary painters: Mario Martinez, Oliver Vernon, David Choong Lee, Damon Soule, and NoMe Edonna. They did a huge live painting with their own space; an eight-foot trailer filled with flowering sunflower plants 20-30 six feet tall.

There was a live piece with Random Rab on the main stage and I got to dance with Shpongle and Raja Ram while Alex and Allyson Grey were painting. Before Simon Posford says "Anthony you're here!" I wasn't scheduled to do anything but I've done live performance with him before.

Last year I did my first Electric Forest in Michigan.I'll be doing again this year. It is huge, 75,000 people. One of the fun things about doing it is that Bassnectar was the headliner. I have known Lorin Ashton (Bassnectar) since he was 19. We met at a rave, so every time I get to see him it's lots of fun.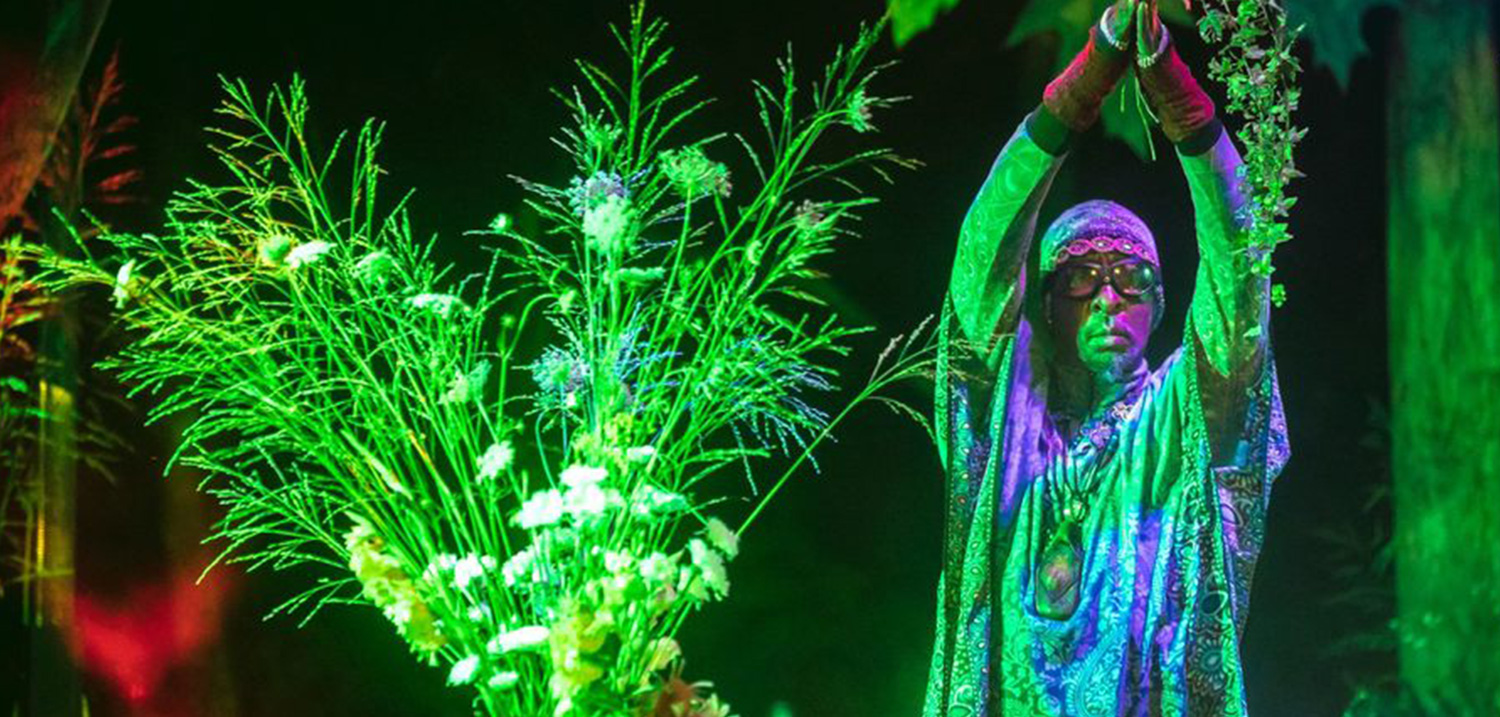 What are some other highlights of your career?
One of my favorite parts of creating with different musicians is sound check. When I was living in New York one of the first soundchecks I got was a Valentine's Day show for Madonna. It was just me, the producer and her. Just the three of us. And I was making a bouquet for her so I just sat there and watching Madonna do soundcheck, was quite amazing.

Another of my favorite artists, is a man who does live painting. Andre Jones - he goes by Android Jones. To me, nature is the greatest artist of all, and I felt the eclipse. I don't know man, what can top that? I really don't know. To me, really, I say that from a deep place. For example, trees are sculpture, they're part of natures sculpture, and nothing that is from the human hand has touched me deeper than what nature does you know - and as I said, I saw the eclipse and so did you. What could be more amazing than that? I don't know. When it was complete and the temperature went down it was amazing.

Thank you for your time chatting with us Anthony!


---


Thanks for reading. Catch more articles like this in the magazine, including an awesome artist spotlight on the illustrious Android Jones.
Grab one from the shop. 👽 Commence subliminal messaging.



---
prev
next
---