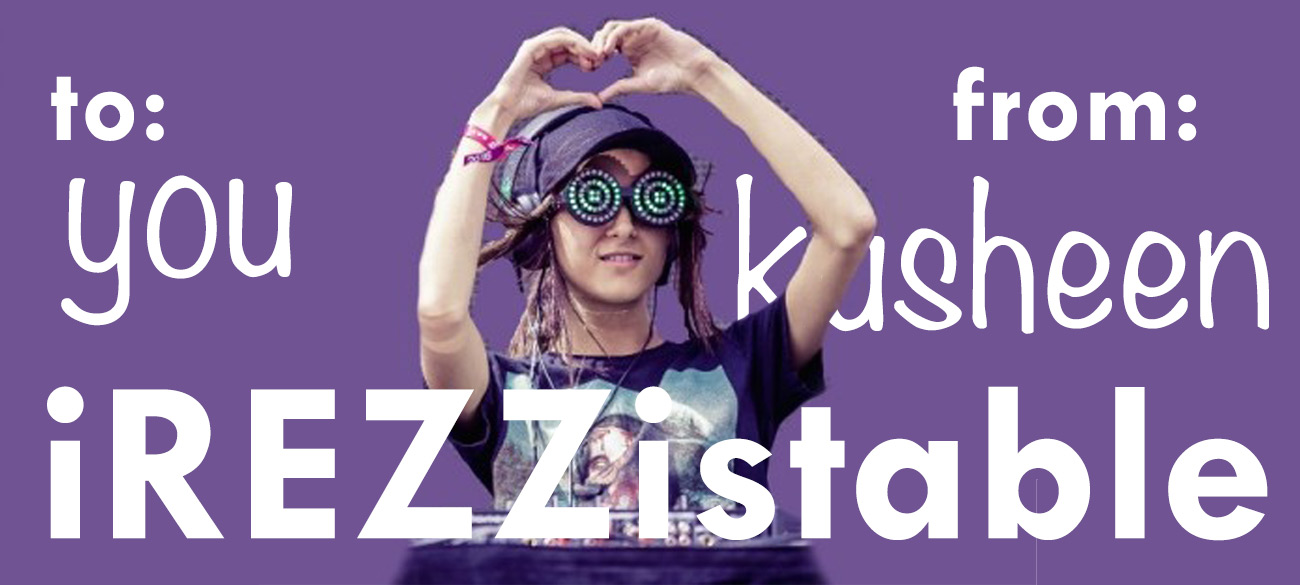 iREZZistable
Valentine's Day Playlist
---



Love is…

… what you give. What you take. The miles you walk in their shoes. The nights you carry their heart. The little gestures. The big hugs. The friendship, the intimacy and everything in between. The days you laugh together and the ones where you cry in each others' arms. The times of joy and sorrow. Love is what you make of it.

What does love mean to you? Celebrate with our Valentine's Day playlist, and let us know what we missed!

Some of the Kusheen staff picked their favorite song from the playlist to tell you about:

Sean: Bassnectar "You & Me (feat. W. Darling)"
This song has always been special to me, and I am so happy to have found someone special to share it with. The first music festival I had ever been to (and my first introduction to electronic bass music), was at Counterpoint in 2012. Some guy named Bassnectar was headlining. Well, that night was the moment I really began to feel free to forge my own path in life. Fast forward to 2014, and BN released "You & Me". I instantly fell for the song, as it came out during a transitional period in my life of moving to California from South Carolina. It was a happy journey, and one I am so thankful I made. Fast forward one more time to 2016 when I met the person I want to spend the rest of my life with. This song came on the first time we met, and I now can't imagine going a day apart.

Diana: Seven Lions "World Apart"
When I thought about love songs, Seven Lions was the first artist to come to mind. In fact, it's hard to pick just one song, from "Rush Over Me" to "Don't Leave", Seven Lions perfectly captures the feeling of love so strong that it turns to desperation and desire that can't be stopped. With his sweeping, melodic bass and powerful vocals, he encompasses the feelings of longing and other-worldly love. Turn the sound up, close your eyes, and be swept into a world of fantastical scenery and lovers crossing mountains to get to one another, of the longing of lovers as deep and wide as oceans.

Sara: Armin Van Buuren "Indestructible Protoculture Remix"
Love is one of the most popular sources of inspiration, and it's no wonder that so many songs are written about love. Although many love songs have a special place in my heart, this remix by Protoculture encompasses all the emotions I associate with finding my very own partner in crime. I discovered it at a pivotal point in my life, where I was really starting to define who I was, who I was with, and how we could fit into each other's lives. With the classic dramatic trance buildup and uplifting breakdown, it plays out all those emotions — excitement, longing, wonder, intensity, and the feeling that you can do anything with the one you love by your side. The cinematic sound combined with sudden breaks perfectly portray the adventure and unpredictability of falling love.

Remember to visit Kusheen for playlists, music news and so much more.



---
prev
next