---
~~~**~~~

Every festival has it's free-spirited appeal, and, of course, love is always in the air, but Shambhala is at the forefront of what electronic music festival culture is all about. Shambhala welcomes everyone, from every walk of life, with a big warm fuzzy Farmily hug. This music festival is held annually on a private farm nestled deep in the Kootenay Mountains of Eastern British Columbia, Canada. The love among the festival goers and the creativity on display is infectious—you cannot help but want to be a part of it. People from near and far, returning veterans, electronic music artists, and newcomers alike make the long, and sometimes difficult, journey to camp at Shambs on foot, in cars, and in vans to be a part of the magic:

The healing power of the beautiful festival grounds, on the lovely Salmo river, surrounded by lush forested mountains, and filled with beautiful plants.

The free-spirited and ever-loving people. Complete strangers hugging, laughing, and connecting with each other like old friends. People expressing their truest selves, dressed in elaborate, hand-made costumes, dawned in lights and paint. Brightly colored and electric Totems are carried by many, helping friends each other in the crowd.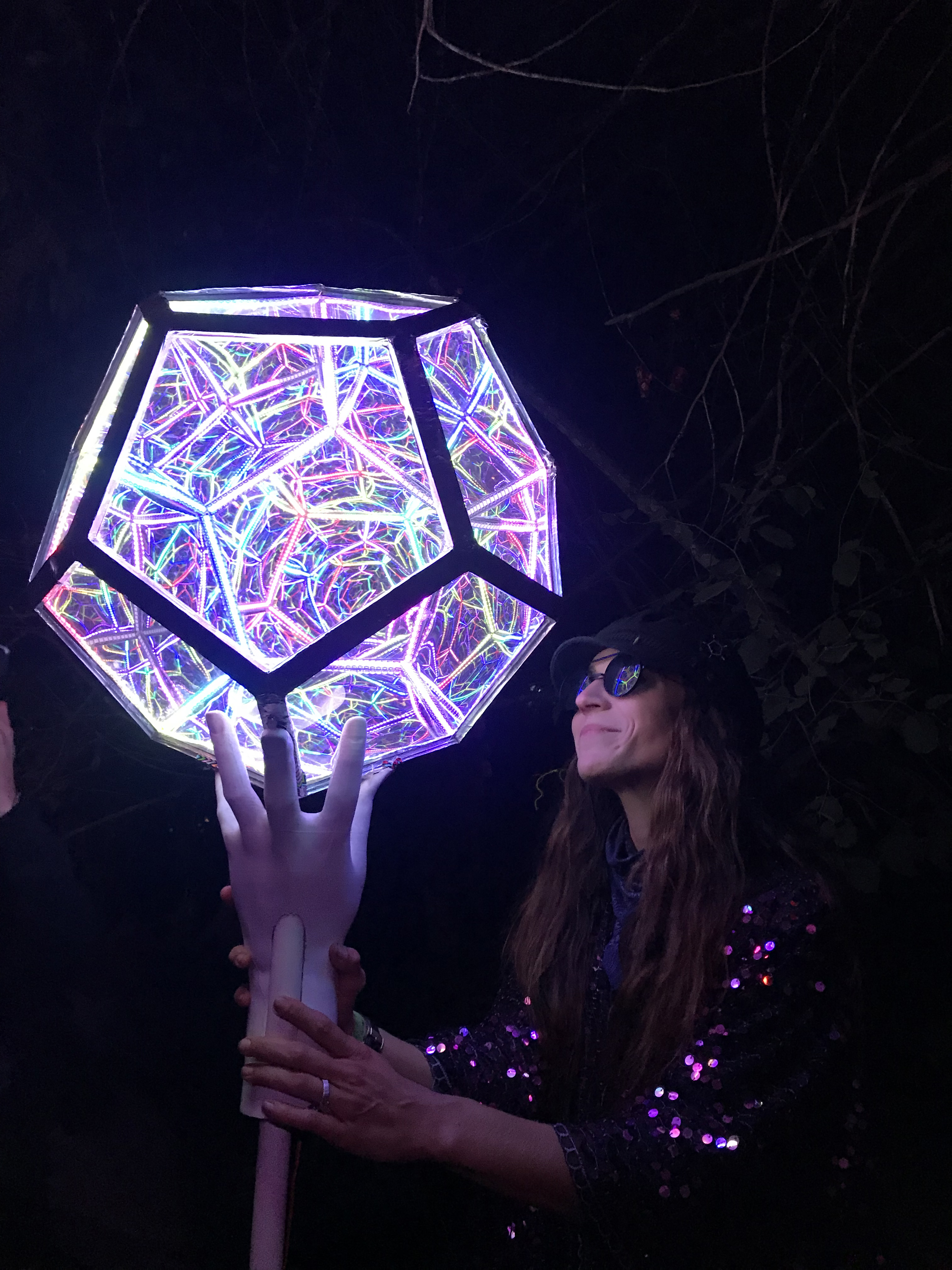 The attention to detail at and in between every stage, the perfection of the lasers, the gardens, trees, and decorations throughout the grounds.

The clarity, depth, range, and diversity of the music.. And of course that world-resounding, soul-cleansing BASS! Thrust upon you by six unique stages; five of them powered by PK Sound, and one showcasing Funktion-1. In our opinion, the artists get just as much enjoyment out of listening to their own music on premier audio equipment, as we do in the audience.. ;)

When you arrive at Shambhala, you arrive Home, and when you leave, you take the relationships, experiences, and memories with you, to share with the rest of the world.

~~~**~~~~

The Shambhala experience has been lovingly designed, grown, and developed by the community for over 20 years, proudly without corporate sponsorship, and it really shows. Shambhala produces phenomenal stages and artistic environments that truly reflect the heart and soul of the electronic dance music culture. The focus is on the artistic talent of the community, and on the electronic music artists on their lineup, all of whom are pushing the boundaries of the electronic music universe.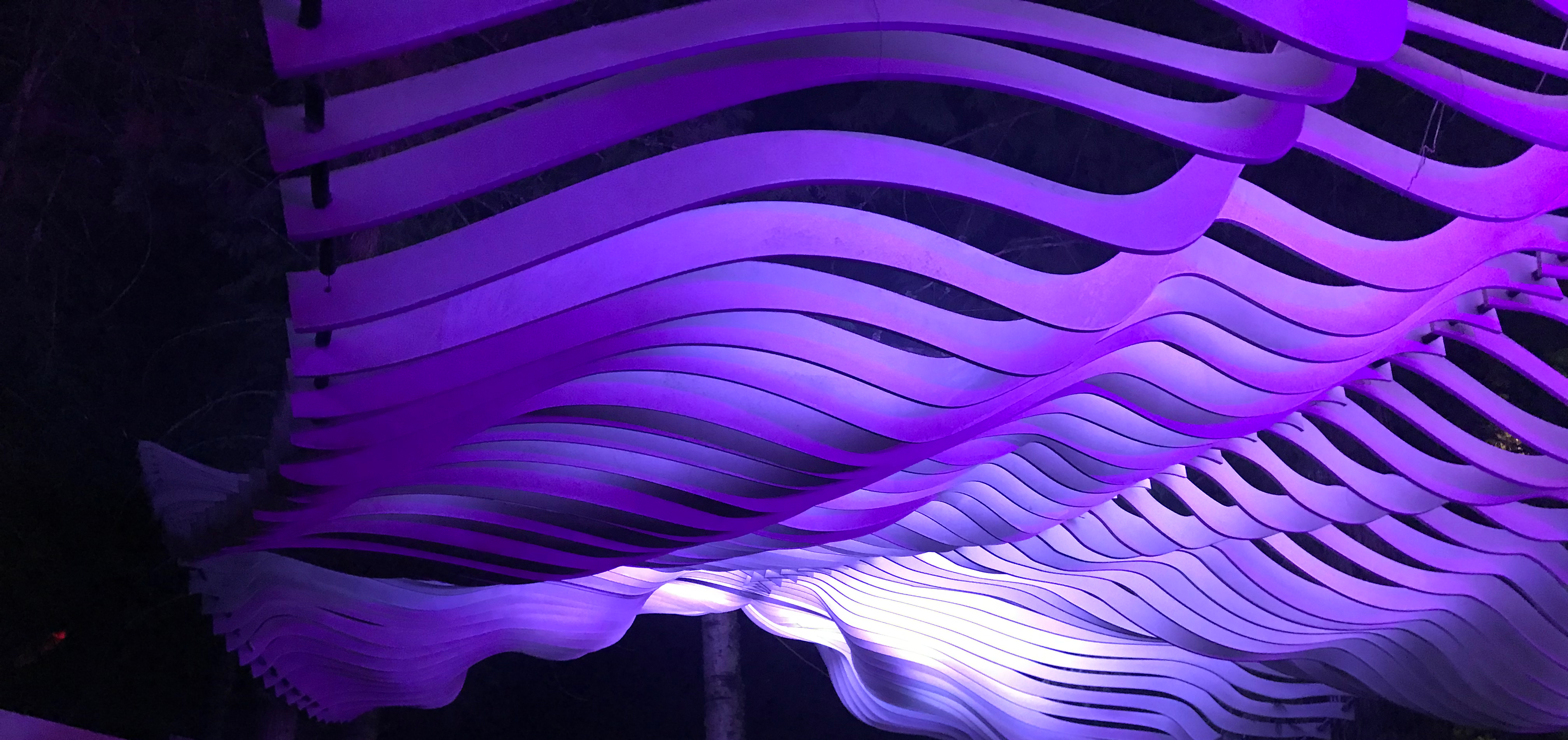 And it doesn't stop there. Shambhala works hard to provide services to the community to foster peace and safety that we think should be standards for all music festivals.

Take the Sanctuary, a space unique to Shambhala (located right next to Medical Services and Women's Safe Space).

"Its goal is to give people a place to go when people need support and need to get away from the festival for a little bit," Sanctuary volunteer Michelle Thomas explained to Kusheen, who has attended the festival for many years in a row. "The festival can sometimes be really overwhelming since it's such a massive event so it's very beneficial for everyone, and all are welcome!" Caring individuals --nurses and workers who have experience in harm reduction-- staff this space and greet people with smiles. There are snacks, comfortable couches and hammocks, beds, blankets and pillows, board games, stuffed animals, water, earplugs, and electrolyte packets, all in a quiet, softly lit space and an atmosphere that is free from judgement and accusations. "Ultimately, everyone who works in Sanctuary just cares about everyone's well-being and works hard to do their best to make sure people are being safe and can return to the event outside so they can have fun!"

Shambhala takes another step in harm reduction by offering a free, no questions asked, drug and substance testing to all attendees, run by ANKORS (AIDS Network Kootenay Outreach and Support Society). This year, the ANKORS site was equipped with a new FTIR Spectrometer, providing the capability to test accurately for a much larger range of substances. ANKORS make all the findings from the festival available on their website, and when you see what was found, it makes it painstakingly clear how important it is to have them there! (Luckily, being held on private land, Shambhala has the ability to offer this service, where most other festivals cannot, due to laws on recreational drugs.)

~~~**~~~~

All the magic and love aside, Shambhala is still a music festival -- known for its lineup of the best jazzy, bassy, funky, or well-rounded electronic music artists, it's six out-of-this-world stages, and of course the copious amounts of body-rocking bass that is framed by each of them. Click on the following buttons for each stage to read Kusheen's breakdown:


The Grove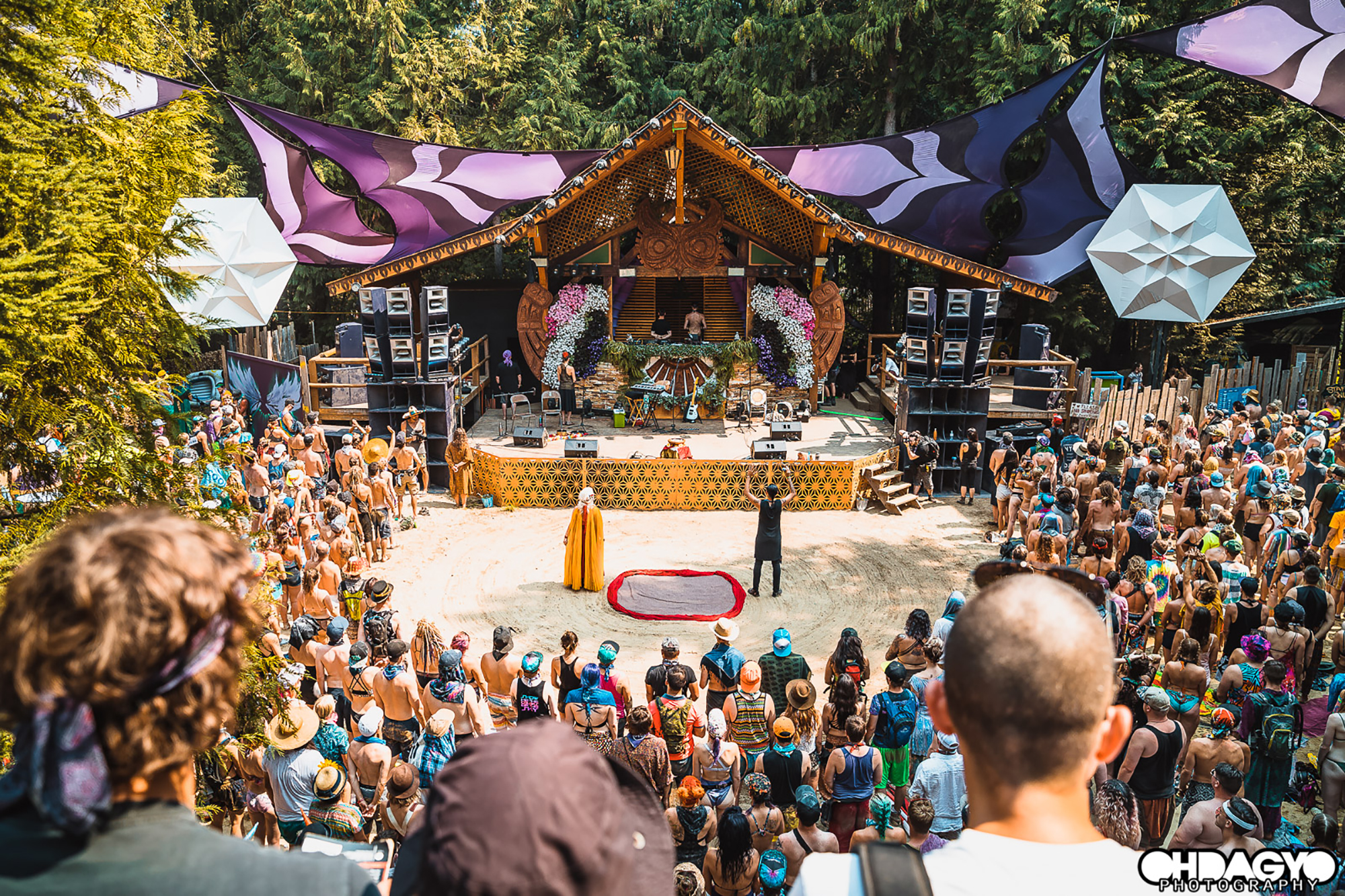 by
Oh Dag Yo
The Grove is a magical wooded oasis tucked away in the trees, featuring an art gallery, vast room to hang hammocks, a secondary stage area called the Cedar Lounge, and all the mystery you have time to search for. The Grove is the only stage to not feature PK Sound, but instead Funktion-1, and I'm here to tell you, the folks at F-1 don't mess around! Of the six stages, the bass at the Grove this year was easily the deepest with the most clarity. It was the only stage where I was essentially physically forced to put my earplugs in. Not just the bass, but the whole sound appeal was uniquely crispy and crunchy, and I mean that in the best way possible. The music seemed to simply pour out of the speakers and dance with my ear drums, like a warm embrace. I was not the most familiar with a lot of the artists on their lineup this year, but that did nothing to stop me from being stolen away by the unique experience the Grove has to offer. From the eclectic sounds of CharlesTheFirst, the crashing of our favorite Brasstracks, followed late into the night with gooey flows from Imagined Herbal Flows, and finally playing stage for one of the final sets of the weekend, the true heavy-weight, Goopsteppa. The stage design featured a peaceful cottage-like DJ booth, dripping with greenery and beautifully constructed flower ornaments, an owl body with flowers for wings, a stage area for performers and aerialists, beautiful 3D mapped projections bringing the stage to life at night, and massive speaker towers on either side, which vibrated the whole forest at will. Featuring a non smoking dance floor, a designated area for storing your totem, and among many other reasons, the Grove is likely the most unique stage experience you will find at Shambhala. It is quite the adventurers paradise, containing the largest surrounding area to explore, including a beautfully tranquil "bio-dome" area to relax with nature for a moment. each new year you may find something you had no idea was there before. As a, now, 4 year veteran of the festival, I found myself more intrigued by the Grove this year than in years past, and I look forward to spending even more time there next year.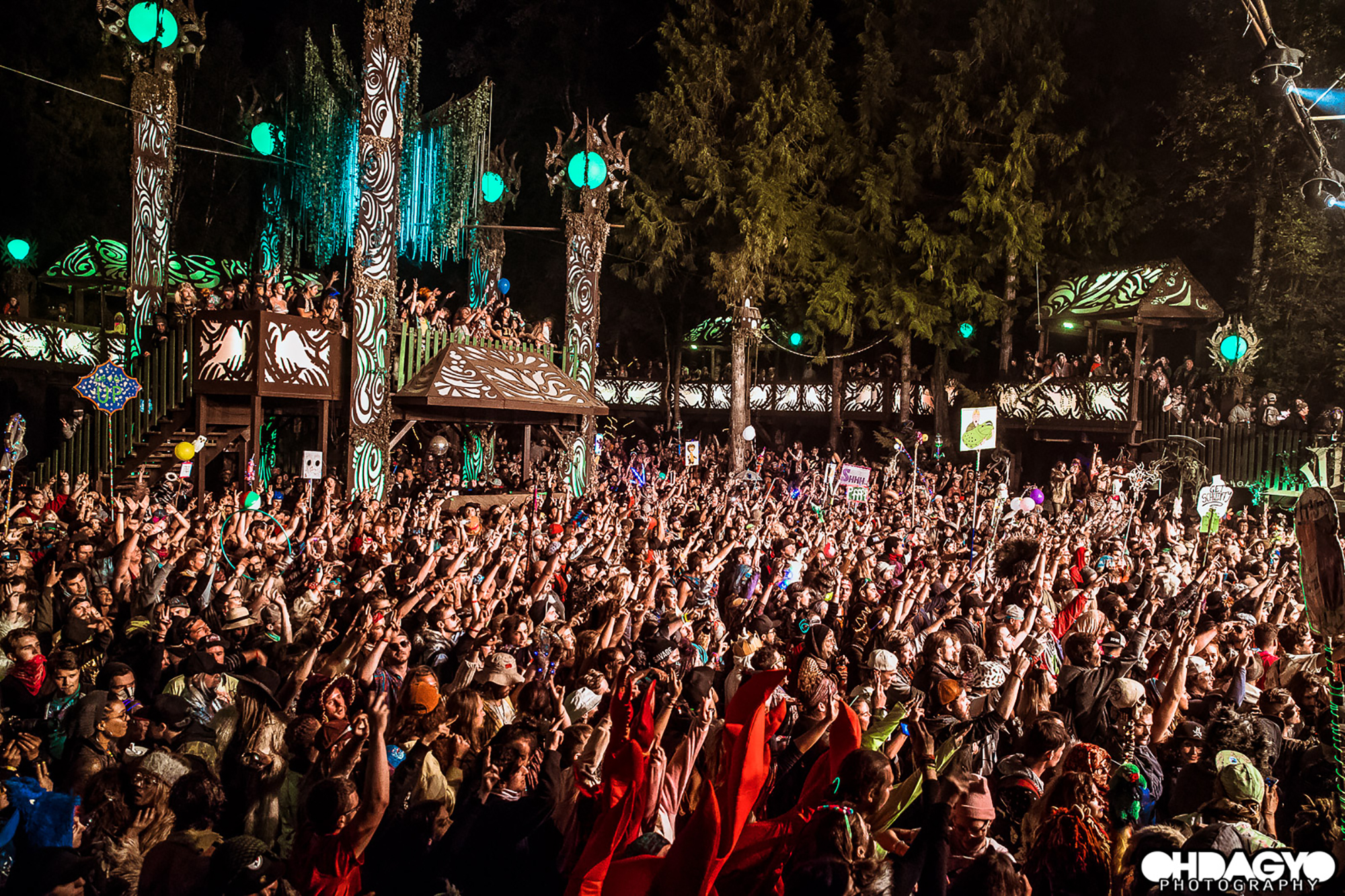 by

Oh Dag Yo



Happy Shambhala <3

Be sure to check out the Kusheen shop for the latest.



---
prev
next